The Master Program in Computer Science was added to the admission & training of the Graduate School since October 2009. After 18 months of completing the course and 6 months of doing thesis, 13 first students in computer science have successfully defended the 1st term master's thesis in December 2011. The 2nd term ceremony of Master's thesis defense took place on the sideline of the School's major activities as the Conference "Looking back at the patriotic struggle movement of youth, students, intellectuals and artists in the urban areas of southern Vietnam from 1945-1975" or activities towards students' Conference of scientific research scheduled to held on 9/6/2012.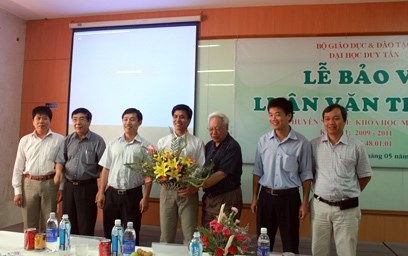 The ceremony of master's thesis protection in computer science at Duy Tan University
With 10 theses are defended successfully, the students of computer science officially eligible to be recognized Master level after the efforts at the School. In particular, among the protected theses this time, the thesis "Face detection based on the 3D approach" of the student Tran Le Thang Dong guided by Ass. Prof, Dr. Do Nang Toan is in the School's Ministry level proposed scientific research subject getting appreciated well from the Council. The success of the thesis is also the favorable start for implementing large projects later on.
Reportedly, Duy Tan University's opening ceremony of the 6th course Master programs  will be held on June 10th, 2012 at the 11 floor - 182 Nguyen Van Linh Campus , Da Nang City. Also in June, the 1st course (the 2nd phase) ceremony of Master's thesis defense in Business Administration expected to take place on June 17th, 2012. The first Master students' success of the Graduate School will be greater incentive for graduate classes later that more firmly believe and constantly strive for the future.